March 29, 2020
Dear Tintic School District Parents and Patrons,
As many of you may have heard, the Governor has initiated some additional guidance as of 4 p.m. (Friday, March 27, 2020). Full details of this directive can be found at https://coronavirus.utah.gov/latest/.
Some of this new guidance applies directly to our school operations as follows:
Distance learning WILL CONTINUE through May 1st.
All school doors will remain locked and not open to the public. School main offices will still be accessible by phone or email from 8:00 AM – 12:30 PM, but with limited personnel, and all parents and students SHOULD CALL IN ADVANCE and set an appointment to ensure appropriate social distancing.
Students needing something from inside the school should call the front office, and an employee can retrieve the item, wherein the student or parent will come to the school during the Grab & Go meal service to gather the item.
Playground equipment and areas are now CLOSED AND LOCKED (this does not include open field spaces, but please practice safe social distancing).
Grab and Go Meal service, we remind you of our operation times 12:00 PM – 12:30 PM. Please spread out during these times as much as possible to ensure appropriate social distancing.
As indicated by the Governor, additional more restrictive guidance may be forthcoming from our local Health Department. We will update you on that guidance when it is received.
Thanks for your help and support of these initiatives designed to help prevent the spread of COVID-19. I wish you well and hope you stay safe and healthy.
Sincerely,
Dr. Kodey Hughes, Ed.D
Superintendent of Schools
Tintic School District
435-433-6301 (office)
435-590-3489 (cell)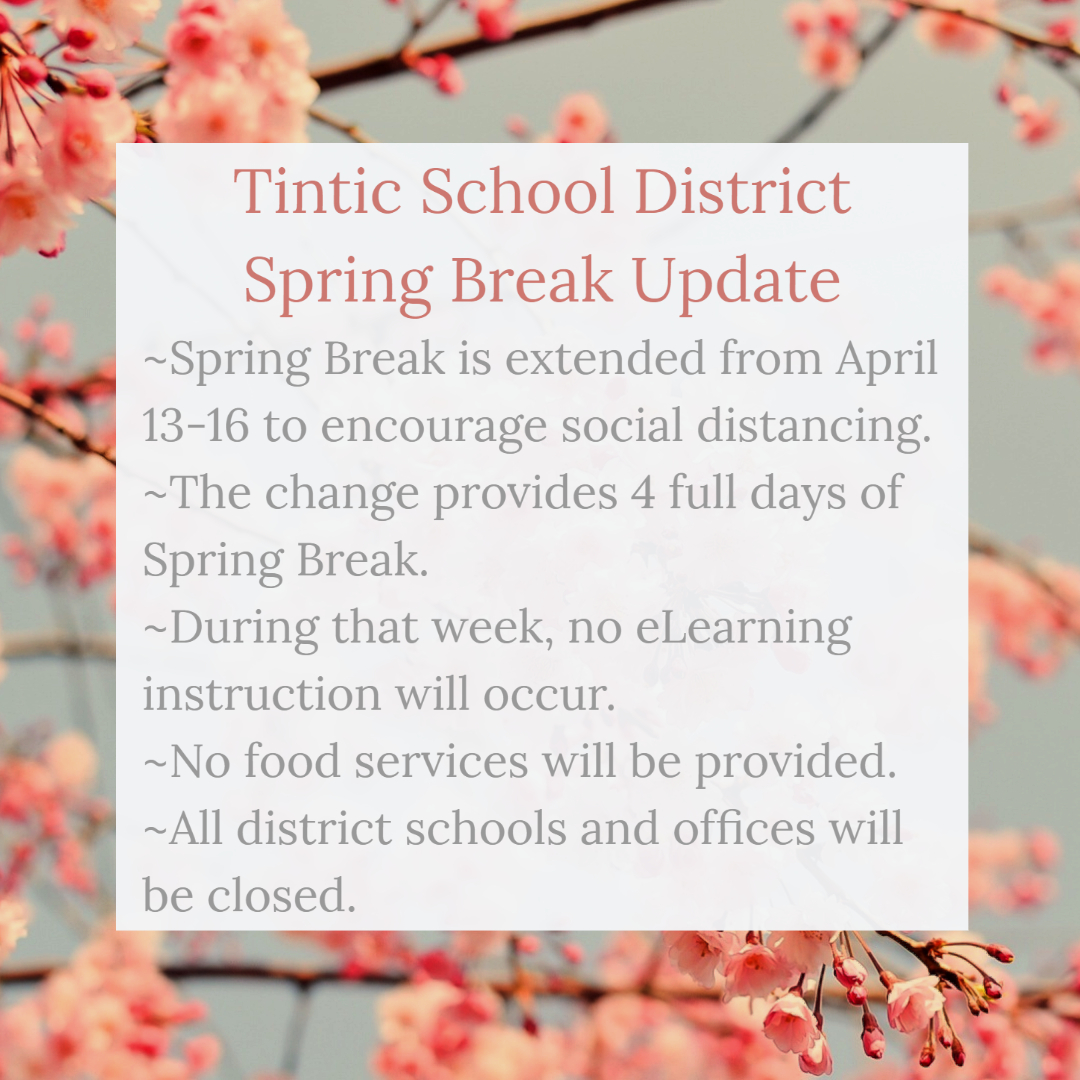 Introduction to the Tintic School District:
Welcome to the Tintic School Distict's Website. The Tintic School District is a small district in the number of students, about 250, but a large district in the amount of area it covers, just a little over 2100 square miles. The district is in central Utah covering three communities in Western Juab County, Eureka, Trout Creek, and Callao. The district has two high schools, one elementary school and one one-room elementary school.
It is the district goal to provide you with up to date and pertinent information about the school district and its schools. If you have any questions or comments please contact the district at the above address or email. the This email address is being protected from spambots. You need JavaScript enabled to view it..
Tintic School District Mission Statement
Tintic School District is committed to excellence by empowering and challenging all students to achieve their potential as life-long learners in an ever-changing world.